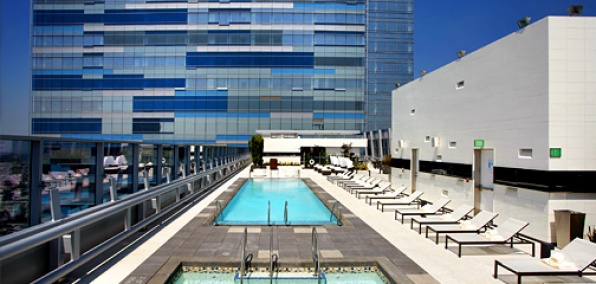 Historically, you've fought brutal traffic, crowds, cruelty and heartache just to get to a game at Staples. To say nothing of your attempts to get to Nokia to see Justin Bieber.
But now you can just come on down from a covert new rooftop lounge, fully equipped with poolside martinis and massages...
Welcome to the serene splendor of
Blue
, now open at the Ritz-Carlton in the LA Live complex.
In short, this isn't the place for a wild, forget-your-name blowout. It's a hidden spot 26 floors above it all for your next unapologetically lazy retreat... and if that happens to be followed by a Lakers game, so be it.
Mark off your territory by the pool (cabanas will be installed next month), summon
dumplings and Umami Cocktails from WP24 downstairs
, and if you're still stressed-out, the nimble masseuses at the just-opened spa will join you poolside for a rubdown anytime you like.
You'll need a room at the hotel to enjoy this—it's only open for Ritz guests—which just means you've got room service and a bed awaiting you after the game.
Sure beats the 110.