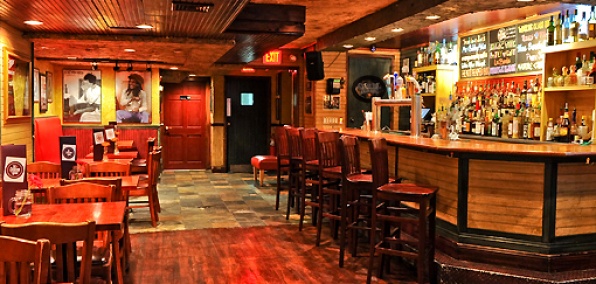 You were a god in college.

Key word: were.

So now that those halcyon days of mixing it up with sweaty crowds of drunken seniors are well behind you, stopping in most spots in Harvard Square to catch the Celtics over a pint can feel a bit... weird.

It would be nice if there were a place that was part cocktail lounge, part party central pub. Ideally not too far from the action, should you feel the need to relive your glory days...

Welcome to The Crimson Lounge, the newly overhauled subterranean cocktail and dinner refuge in the basement of Tommy Doyle's, soft-open now.

What was once merely a place to wait it out until the main space opened up is now a glittering, Rolling Stone-festooned basement lounge for sizzling plates of Rainbow Trout with Israeli Couscous, Sirloin Steak and Shrimp Tempura—the perfect antidote when the pub-grub and beer craziness upstairs isn't quite what you had in mind for a Wednesday.

And because there's a completely new drink list to go with the separate food menu, your beverage options include 14 cocktails that pay homage to long-deceased rockers (this place was the original House of Blues), from Elvis's Blue Suede Shoes (it's got blueberries) and Hendrix's Purple Haze (it's got crème de violet) to Lennon's Working Class Hero, consisting of a shot of Jim Beam and a 16-ounce Ballantine Ale.

You used to do three of these before Econ.