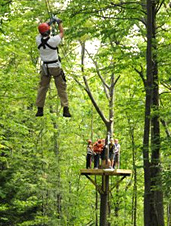 Ever since you watched an Amazon-living Sean Connery zip-line from limb to limb in the 1992 classic
Medicine Man
, you realized: a) there was no way that ponytail of Connery's was real, and b) zooming across metal cables through the trees looks like heaps of fun.
Now that you've stopped having nightmares about that ponytail, you're ready for a road trip.
Presenting
Deerfield Valley Canopy Tours
, a three-hour zip-line odyssey through the Northern Berkshire treetops, open for reservations now.
To get the Robin Hood-meets-Ewok Village fun underway, you'll want to head to Charlemont, MA, with some buddies, where you'll all be harnessed up, given a bit of "ground schooling" on the basics of zip-lining (we hear braking is a big part of it), and then carted about a mile up a mountain.
From there you'll spend the next three hours dangling 60 feet off the ground and exploring the canopy while sliding tree-to-tree at speeds of up to 30mph across runs of up to 600 feet (cue Tarzan call of the wild).
Besides taking in the spectacular views of the mountains and river valley, you'll trot between trees on skybridges (think that big wooden rope bridge from
Indiana Jones
, only much sturdier) and even do a little ground hiking as you descend.
Which should come in handy if that crotch-harness was a little too snug.