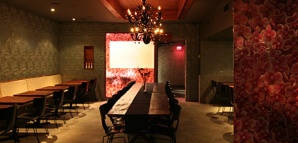 The world turns. Time marches on.

And, inevitably, the LES gets even trendier.

The latest entry is Le Lupanar, a modern French resto and architectural playground soft-opening tonight on Essex. The proprietor is on vacation from designing million-dollar homes, and every surface shows the touch of an architect gone wild. From the walls of molded puce orchid (there's three words you never thought you'd see together) to the black glass chandelier hanging over your plate, it's like a design school dream of a French restaurant. But the name "Lupanar" is provincial French slang for brothel—the old country destination for good food, absinthe and courtesans—so maybe it's a dream with a little more action.

There's certainly plenty of action in the kitchen, with French fare like braised oxtails along with modern turns like the orange and rosemary crème brulée so you can finish in metropolitan style. As for the bar, it's BYOB until the liquor license comes in (due this winter), so until then you'll have to find your own absinthe connection.

The orchid-covered walls are lined with cozy tables for Parisian romance, and there's a communal table in the middle for when you show up plus an entourage or minus a reservation. For something more personal, there's the wood-paneled private dining room in the back, or in a couple weeks you can grab a DJ and head downstairs for a lounge that's a little more subterranean...

But keep it quiet. So far, it's still underground.