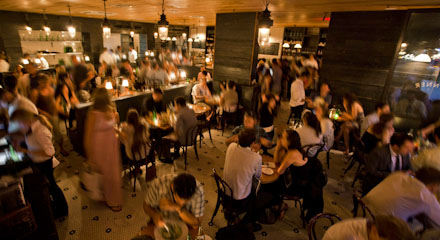 When it comes to late night dining, you take your options seriously.

Which is why you'll be rather pleased to hear about The Smith, the new resto just opened over the weekend in the East Village.

Brought to you by the same people who run the brunch-centric Jane, The Smith in contrast gives you a little bit more of the late night. It's one of those places where you go for the drinks and stay for the food—a collection of gourmet (booze-absorbent) American Brasserie favorites like the Chopped Steak with Mushroom Gravy and the Lamb Schnitzel with Parmesan Crust and the sure-to-be-loved crowd-favorite Hot Potato Chips with Gorgonzola fondue.

But before you get too comfortable at your table, head in the direction of the bathroom, where there might be a scene developing. Instead of the standard barren hallway that you often see when you attempt to heed nature's call, there's the added distraction of a photo booth (with a soon-to-come cork board to frame your Polaroid masterpiece), a barber chair (byob—bring your own barber) and a peephole showing all your old burlesque movie favorites.

Because nothing goes with late-night schnitzel like burlesque through a peephole.