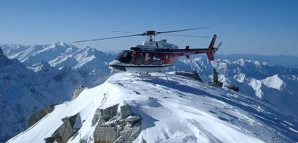 As the temperature drops, your thoughts turn to snow.

But this year, we suggest forgoing your trip to the Alps in favor of a slide down the Himalayas. Yes, really.

Shrouded in legend and mystery—not to mention violent snowstorms—the Himalayas aren't exactly known for ski bunnies, cabin lodges or a swinging apres-ski. But the world's highest mountain range also possesses the world's purest slopes: Miles above sea level, the powder is light and the snowfields are endless. How to tackle these virgin expanses? We prefer to do such things by helicopter.

Himalayan Heli-Adventures, now operated by Swiss heli-skiing masters Air Zermatt, opens the doors on this forbidding terrain. They're stationed in the small town of Manali, in India's beautiful (and even politically stable) Himachal Pradesh. At a comfortable 6,300 feet, it's buried deep in the Himalayas—but no colder than the Alps. Each morning, you'll hop in a Swiss chopper, and within minutes, you're jumping out at 15,000 feet, with clear views of the unspoiled terrain, as you sail down a mountain face that may never have been skied before. (Breaking in nature: exhilarating.)

The Himalayan Exclusive Package coordinates lodging, transport and two private guides, and puts the helicopter at your disposal for 30,500 meters of vertical skiing—after, of course, the mandatory avalanche training.

But falling rocks never stopped you before.