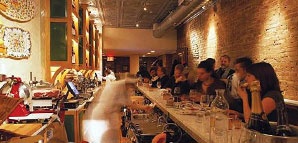 A wine bar is a wine bar is a wine bar, a poet once said, and we've seen a lot of them. But every now and again we come across something that gives us a reason to see one more.

Little Gottino just might be one of those spots—even if it is still, well, a bar that serves wine.

Open under the radar this week, Gottino is an unassuming nook of a spot with baskets of fresh fruit on the bar and tins of sardines on the shelves. As you might guess, there's wine (a lot of it) mostly Italian scribbled on a white chalkboard. But where Gottino gets us excited is the two-page menu put together by Morandi's Jody Williams, proof that when a great chef goes into a small wine bar, things get interesting.

So, on a quiet night when you're feeling like a small bite you might opt for, say, the grass fed beef carpaccio with black truffles or maybe the heirloom apples stuffed with garlic sausage. And as always you should keep your eye on the pig. Specifically, the Lardo (aka rosemary and pepper cured Berkshire fat back over toast). The full range of meats and cheese come from as far off as Italy, and as close as upstate, so you won't have to stress about getting too regional.

As for seating, there's a group of tables in the back and even a smoking patio for when global warming kicks in, but the good spots are at the bar, where you can crack open some chestnuts and look over the bottles.

After all, you have to wash it down with something.