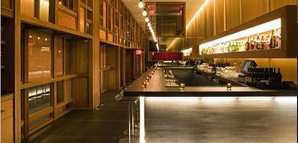 Some blocks in Manhattan are off the beaten path. And some are just overlooked.

In the barren land that is Fifth Avenue above the Flatiron District and below Koreatown, you'll find Ilili, arriving this Friday as an unexpected Middle Eastern oasis.

Ilili ("tell me" in Lebanese) is first and foremost a big room. The high-ceilinged space is split into lounge and restaurant, both of which are decked in cedar, granite, golden silk and red velvet. The wooden panels that separate the lounge from the dining room are filled with glass, mirrors and sometimes nothing at all. The effect is a sort of optical illusion where you may be peeking into another room or back at the one you're in. To grab the best vantage point (and avoid the optical illusion) head to the upstairs VIP lounge or dining room, both of which overlook the action below.

The food is what you would expect in a bustling Lebanese lounge—sort of. You'll get some of your traditional Middle Eastern favorites just the way you like them—with a little bit of Japanese style. Think: Toro Tartar with Burghul, Mint and Crispy Flatbreads; an $82 Wagyu beef kebab (which is about $80 more than you're used to paying for kebab) and Thinly sliced Amberjack with spiced Baba Ghannoug. All of this may cause you to rethink some of your favorite Middle Eastern (or Japanese) dishes.

And with a DJ spinning international music every night, you may rethink some of your favorite music.

You know, like Oasis.