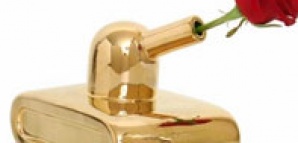 There comes a special time in every young store's life when certain changes begin to happen.

Like sudden growth spurts, for example. Take Venice's newly opened A+R, the second outpost of Silver Lake's modern global-design haven, which is twice the size of the original location.

Owned by married duo Rose Apodaca (a journalist whom you know as an oft-hailed member of LA's small style cognoscenti) and Andy Griffith (who has a British accent), the store is filled with modern, stylish and often humorous items for your home and wardrobe from up-and-coming designers in New Zealand, the Czech Republic and the especially exotic land known as Laurel Canyon.

Standouts from the eclectic store include the wry La Tete Au Cube centerpiece—a vase/army tank that holds flowers in its cannon. Other conversation starters include a Plexiglas deer head from Science & Sons, a painted ceramic bust of Lenin by Maxim Velcovsky and a purple-hued skull sculpture hand-blown from a single recycled beer bottle. And every time you deposit a pocketful of change into your golden, nearly life-sized Harry Allen piggy bank, you'll think of Andy + Rose.

You could even send them one of the shop's "Generic Greeting Cards" as thanks.