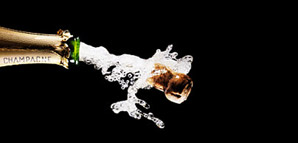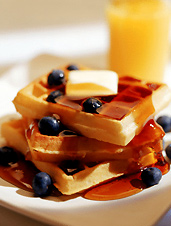 We regret to inform you that brunch as you know it is gone, possibly forever.
The good news is, its replacement brought some serious DJ chops.
Also, something a whole lot stronger than your typical Bloody Mary.
Welcome to
High Society
, brunch's new booze-soaked evil twin, currently living it up on the 51st floor of the Palms.
It's what Vegas did to
the pool party
,
the cowboy bar
and
the coffee shop
, but applied to the modest mimosa and scrambled eggs. Just find your way to the Palms' petal-covered red carpet around 1pm this Sunday. That carpet will lead to a normal-seeming elevator, which will transport you to a magical kingdom where Bloody Marys flow like water, tutu-clad waitresses in fishnets dance on tables, and there's a lot more champagne than orange juice.
The first thing you'll notice is the massive speakers, pumping out club hits that might sound familiar from the night before. After that, you'll want to make friends with the real heart of the scene, a mobile drummer wandering through the crowd with a kit strapped to his chest, spreading rhythmic joy to every table he passes. If you feel particularly regal—or you just want to support the city's starving-artist community—you can grab one of the tableside portrait artists for an impromptu rendering.
They also do a mean frittata still life.