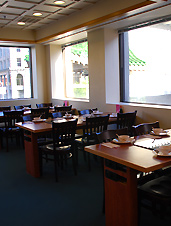 Chinatown.
Great for three things: lunch, late-night food and a backdrop for crucial scenes in
The Departed
.
For one of those, consult your well-worn DVD. For the other two, see below...
Introducing
Hot Pot Buffet
, the new all-you-can-eat Chinese haunt for all your extended lunching and late-night dining needs, open now.
Say you're out with a colleague and seeking a new lunch spot with authentic Hong Kong-style grub after a morning spent making it rain on the sales floor (or just answering a few emails and surfing the Web). For about $20, you can head upstairs, grab a seat near the window overlooking the Chinese Gate and feast on an unending wave of meats, veggies and seafood that you'll cook yourself in chosen broths on the safe-to-the-touch grills at the table.
And because it's open until 2am, you'll also want to use it as a depot for late-night eats after an evening at the bars.
Which is when the safe-to-the-touch aspect of the grills will really become important...