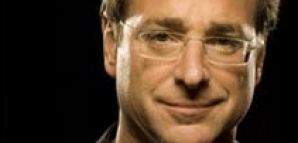 He was the nice guy Dad on
Full House
and the folksy host of
America's Funniest Home Videos
. He's also the foul-mouthed standup comic with an out-there cameo on
Entourage
and quite possibly the dirtiest 20-minute monologue in the history of film.
This month, comic Bob Saget takes the Broadway stage in the musical "The Drowsy Chaperone." Though he's now a self-professed "theater queer," he still manages to get in a few words of wit on New York, the Olsen twins and what it means to be a man.
UD: New York or LA?
BS:
I love NY. I feel relaxed in NY. It's like the Matrix to me, everyone's moving around fast, everyone's got somewhere to go.
UD: How is it different performing in NY?
BS:
You can't fake New Yorkers. There's no autopilot when it comes to performing for people here.
UD: Where do you like to eat out in NY?
BS:
I love Mario Batali restaurants, I always go to Esca. I love Joe Allen's places in the theatre district, like Bar Centrale, I always feel good there. Il Mulino, the old classic. I love the BLT restaurants. I went to this restaurant recently that I liked called Hearth.
UD: Standup/ Acting/ Hosting/ Music Video/ Musical—take your pick.
BS:
I'm totally a theater queer right now. I love movie directing, I loved doing
Farce of the Penguins
. I am very confused right now as to what I like better.
UD: Any dirty ad-libbing going to happen during the Drowsy Chaperone?
BS:
We were joking about doing a dirty version of the show one night—just having the Man in the Chair come out and just curse. And make it a midnight show. I don't know if the whole cast would enjoy that. I'll keep you posted.
UD: Tell us about any Full House reunions in the works.
BS:
Ashley Olsen came on Friday night, Mary-Kate came Sunday night. John Stamos is coming Wednesday. Jody Sweetin is coming Saturday. We're actually going to build the
Full House
cast on stage.
UD: What's a weird fact about Full House?
BS:
It's hugely popular in the Nordic countries. I think it's because all the girls had blonde hair. And with the three guys...it looked like two ages of ABBA living together.
UD: Good Bob, Bad Bob—who do the ladies like better?
BS:
It's really split down the middle. When my HBO special came out, some were like, "How could you talk like that?" and others were like, "I love that you talk like that—it's so great."
UD: New York women or LA women?
BS:
The women in New York are all so pretty, and they all look like Jerry Seinfeld. They all have dark features and long brown hair and big eyes. So I'm kind of complimenting Jerry. If I just called Jerry an attractive woman, I didn't mean that.
UD: I think you just compared all the women in New York to Jerry Seinfeld. I'm not sure how they will react to that.
BS:
I meant it in a very loving way.
UD: Comedians are great observers. What's the oddest thing you've observed about women?
BS:
They like it warmer. Temperature wise.
UD: Has anything you said ever gotten you slapped?
BS:
I have been slapped. I can't remember what I said because my face was so numb—it jarred my brain.
UD: Your thoughts on fashion. What are you wearing these days?

BS:
I can't wear things that confine me toomuch. I wear these lame sneakers with nolaces, they're All-Stars. I just go intostores and say "dress me." I have JackPurcells. I like stretchy shoes.
UD:
What are 5 essential things every guy should have?
BS:
Two of them are testicles. The third is something that is connected to them that shouldn't completely rule their life. The fourth is a good set of parents. And the fifth would be the ability to listen. That will save your relationships.
UD: You have three beautiful daughters. What's the one piece of advice you would give them about men?
BS:
I always have given them the same advice. Kick them in the groin and run.