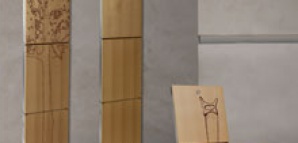 You've always believed that your home is a reflection of yourself.

After all, you are where you sit. If you're looking for something handsome and stylish—in other words, a little more representative of you—to replace the unfortunate collection of folding chairs you've been hanging on to, the newly available Pick Chair from Studio Dror should make an impression.

After its long-awaited arrival from Italy, the Pick Chair is one of the best demonstrations of functional style we've seen. You can hang it flat against your wall as artwork, fold it into an extra chair when an impromptu dinner party calls for more seating and use it as a conversation piece when your cable goes out.

You can get the Pick Chair in two designs: a scrawling Oak print and an outline of a wood saw (each one being the closest thing to nature within a mile of your apartment). And since it just hit our shores, you'll have a piece that's good-looking, well-designed and extremely unique—and highly functional.

Which, coincidentally, sounds a lot like you.