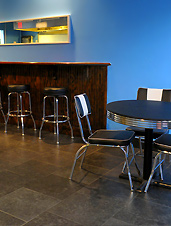 Cupcakes.
So cakey. So cuppy.
And while there's no shortage of bakeries churning out these innocently seductive pastries, your options for cupcake specialists have been rather limited. Until now.
Introducing
Cherry Bomb Bakery
, the new cupcake mecca in Brighton, opening next Saturday and now taking preorders.
When you need a cupcake and you're near Brighton, this is most certainly your new go-to. As you approach the clean, narrow shop on Washington Street, you'll start to smell the sweet aroma of fresh-baked
Double Chocolate Cupcakes with Chocolate Covered Bacon
. Followed quickly by the overpowering scents of
Chocolate Stout Cupcakes
with Guinness butter cream frosting, the namesake
Cherry Bomb Cupcake
... and maybe even some bourbon (they let you customize your cupcakes with practically any ingredient you can think of).
But they've also got plenty of coffee and espresso on hand, so we think you'll like this as a place to pull out your computer and get a little work done, amid the smells of cake and the sights of women who like cake...
And when you find yourself with an appetite no red velvet can satisfy, you'll want to order some
Pulled Pork Cornbread
made with Frank's RedHot sauce, honey and butter.
No word yet on prime rib scones.