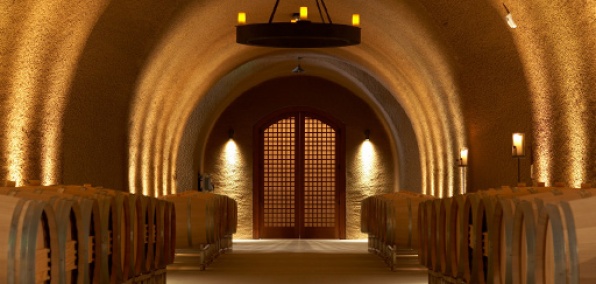 Generally, when two worlds collide, good things follow.

So when we heard that restaurant legend Thomas Keller was joining forces with a Japanese video game magnate opening a new winery in Napa, we had to see what was going on. And we think you're going to like what we found...

Welcome Kenzo Estate Winery—Napa's only winery to have a tasting menu created by Sir Thomas Keller—opening this Saturday by appointment only on top of Mt George.

Owned by the Japanese video game empire responsible for Street Fighter and Resident Evil (like all good wineries), this hidden, serene plot of land is the direct opposite of what you'd expect from a high-tech gamer.

Climb up five ear-popping miles from the Silverado Trail to a large iron security gate. Wait as it slowly glides open, then navigate the mile-long driveway that winds through a Jurassic Park-like forest, through another gate, over a bridge by a lake and finally to the barn-like board-and-batten tasting room.

Once you tuck into the tasting bar, start with a glass of Asatsuyu Sauvignon Blanc (the first white made by the cult-wine-maker best known for her Screaming Eagle cabs) before touring the intricate wine caves.

By then you're ready for a flight of reds paired with Chef Keller favorites like salmon rillettes and croque-madame—best enjoyed at a vineyard-side table on the patio.

With no arcade in sight.