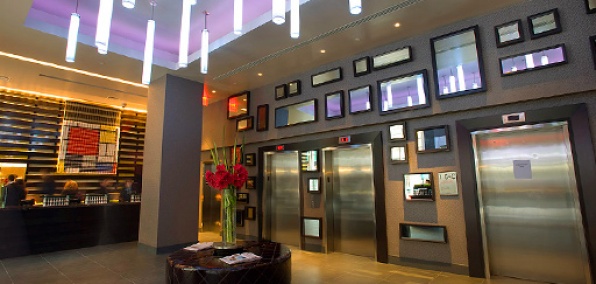 Chilled champagne upon arrival. A concierge with 8pm reservations at Minetta Tavern. Bath towels folded into animals.
Yet you've always felt something was missing from your hotel experience. Something like... fashion models.
Parading through the lobby. Bikini-clad, sharing an elevator to the rooftop sunbathing deck. Having pillow fights in the room across the hall.
Welcome to
Fashion 26
, a new hotel in Chelsea that may forever change your standards for what a hotel should offer. Indeed, it may shake both the city's fashion and hospitality industries to the core.
It's the first hotel in the city that caters directly to models—but keep in mind that the fashion theme is largely a design gimmick, sewn together by the national Wyndham chain. And yet, it's the kind of gimmick we wholeheartedly support.
Here's the wild-eyed hope: give discounts on its 280 rooms to models, agencies and clothing designers. (Top players like Ford have already inked deals.) Unlike hotels that charge for every extra model sleeping in a room, Fashion 26 has no limit on how many girls can pile into one.
If all goes according to plan, you'll be able to wander over after a night at
the Ainsworth
or Black Door and pull up a seat in the lobby bar, where you might find girls kicking back in Converse All-Stars, comparing tan lines and celery stick recipes.
And it just so happens you know an amazing celery stick recipe.