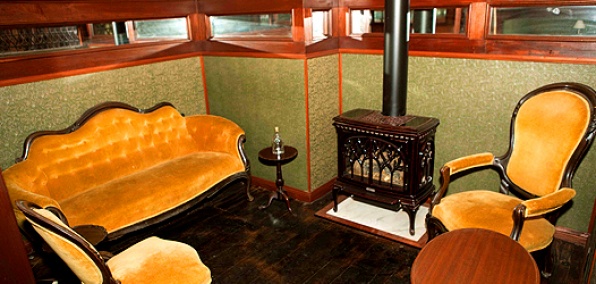 Things are constantly shifting all around us.

But our wants, desires and requirements remain quite constant: the company of interesting comrades, strong drinks and mastery of the occasional debaucherous night out.

Here to fulfill all your needs: Comstock Saloon—a new turn-of-the-century themed den devoted to reviving the colorful post-Barbary Coast pub scene—opening Thursday on Columbus.

Walking into this century-old corner spot—brought to you by two Absinthe bartenders—is like stepping back into your great-grandfather's cherished watering hole, complete with slow-rotating 1916 fans filling the lofty ceiling and the bar's original spittoon trough at your feet.

Head over to the long mahogany bar, where Jonny or Jeff will pour you a stiff Negroni or maybe even a Martinez—said to be the predecessor to the martini (sounds like good breeding to us). Then spread out in one of the long-backed, velvety booths opposite the bar and under the exhibit of old cocktail memorabilia—including antique bar props and Jonny's first-issue Gentleman's Companion (note: this is a book).

But if you need more date-like privacy, try the Victorian sofa, in the corner nook beyond the bar, next to the gas fireplace. Since they're open until 2am, this can also serve as your spot for late-night Beef Shank and Bone Marrow Pot Pie or Grilled Quail with Oyster Stuffing.

Life was good in 1907...