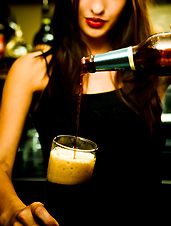 You've been known to put in long, tireless hours, with laser-sharp focus on one single subject, and one subject only.
You also like beer.
So we found a place for you to merge your insatiable hard-work quotient and taste for beer and put it to good use.
Introducing
Devil's Canyon Brewery's Brewing School
, your entrée into the world of beer making led by renowned professional brewers, opening its doors Willy Wonka-style to a select group each month.
Essentially, you get to play brewer for a day, with access to all the equipment in Devil's Canyon's sizable brew house—starting with one of eight copper kettles that you can share with as many as five friends (choose wisely). And when you leave, you'll have made 13 gallons—that's five cases' worth—of your own proprietary brew.
The day starts with tasting a flight of the brewery's five core beers (as most good days start). If, say, you like the smoky
Full Boar Scotch Ale
, you'll get to tinker with their recipe or any of the others. Or scroll through more books to find that perfect IPA or stout worthy of your name.
Then you'll brew: we're told this involves mashing grains, something with hops, a giant copper vat and then more big tanks. Once your work is done (or, about six pints into the day), fermentation begins. In a few weeks, you'll reconvene for a bottling party when you'll bottle and cap (and drink) your brews.
Or, more likely, cap one, drink one...