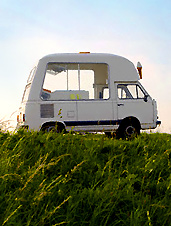 The problem with food trucks is that they're so... mobile.
And sometimes your stomach doesn't want to wait for you to slog through pages of Twitter, only to find out Kogi's heading to
Santa Clarita
.
So we'd like to present the most important culinary invention since... the food truck. Introducing the
RoadStoves GPS
app, now available.
Basically, this long-overdue device doesn't rely on (or wait for) Twitter updates from driver-chefs as they careen down Wilshire in a haze of burger smoke.
All you have to do is pull up the app, then select "Near Me," and you'll see the list of trucks within a few miles of you, in real time—thanks to the magic of, yes, GPS, which pulls location info from participating trucks every couple of minutes, whether or not there's been any tweeting. Select the nearby truck that strikes your fancy, and you can easily grab driving directions, the menu and, if you want, their Twitter feed.
A couple caveats. The thing just launched, and it's only got RoadStoves trucks—Kogi, Baby's Badass Burgers, the
Grilled Cheese Truck
—for now, 21 total. But you can expect that number to rise very quickly.
Like the number of trucks did.