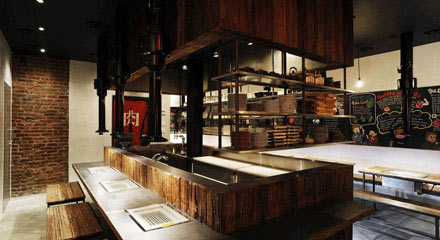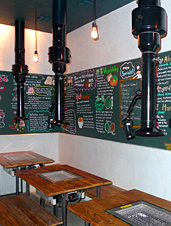 What we're about to say will shock you.
In fact, it might shock Peter Luger himself.
But, according to the Japanese, there is life beyond the porterhouse, the skirt steak and, yes, even the cheeseburger.
Life that starts with a singular, mind-bending focus on parts of the cow that you may not have known were edible.
We're talking raw beef heart here, people...
And down the rabbit hole we go:
Takashi
, a new temple of unknown beef, is soft-open for dinner this week in the West Village.
The small spot seems like the eatery that Indiana Jones, Hannibal Lecter and Anthony Bourdain would open together after a night of hard drinking—all the meat comes raw, every one of the seven tables has its own grill, and the decor is comprised simply of a chalkboard explaining how meat is healthy for you (you've been saying this for years).
Clearly the main draw here is
the selection
of offbeat innards: flash-boiled Achilles tendon, grilled throat bone and the extremely hard to source
Akase
—the legendary fourth stomach.
We suggest you make good use of your personal grilling unit, wrap your charred meat in lettuce, down a good bottle of dry sake and make sure to turn on the retractable fan to siphon the smoke away from your date's pretty eyes.
Then again, every good date needs a little smoke and mirrors.