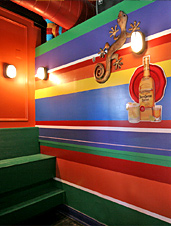 Let's start with a premise that we can all agree upon: pork belly tacos and superior whiskey are good things. No argument here.
Now let's go off the reservation—for a bit. Let's dress mounds of Tater Tots as if they're plates of cheesy, spicy nachos. Let's swap tequila for whiskey in your margarita. It might be awful. It might be fun. It might be anarchy.
There's only one way to find out.
Meet us at
Dos Gringos Trailer Park Chicago
, a tequila-and-beer-soaked paean to those lost Mexican weekends of your youth... or, at the very least, lost Wrigleyville weekends... opening tonight.
This isn't some upscale taqueria where you and your date will swirl fine anejos while savoring complex mole verde. It's just a crazy, serape-colored cantina, a spin-off of the Arizona franchise, offering delicacies like cold, cheap Corona and stiff belts of tequila. There are plenty of TVs, so you can come here for tacos, burritos, tamales and those Tater nachos while watching Monday's opener. But you'll find that the best action is behind the bar. (You always do.)
That's where you'll have nine rabble-rousing margaritas to choose from, including the
Redneck
(you guessed it, the one with whiskey) and the
Donkey Punch
(we have no idea what that means) with tequila, peach schnapps and a dash of... champagne.
See, you always know how to class things up.