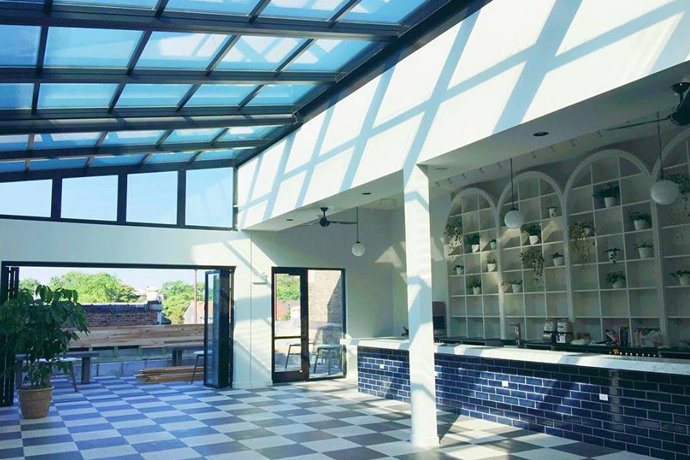 Beer. Steamed buns. Chinese mythology. A rooftop.
We probably had you at beer, but we'll go on anyway...
Because any day now, Bixi Beer will open its doors in Logan Square, unleashing some sort of turtle-dragon hybrid into your consciousness and pushing boundaries with things like Szechuan giardiniera, beef tongue and black fungus. And beer.
First thing to reiterate: it has a rooftop. And with its custom artwork, whimsical wallpaper and living green walls covered in moss, it certainly looks like no other brewery in the city.
You'll start off on the ground floor, eyes scanning over the shiny new brewing equipment behind the windows as you enter. In the main dining room, your crew is already snacking on Asian-inspired small bites like Vietnamese egg rolls and kimchi mandu, the Korean take on dumplings.
Happy hour for you is a two-handed job. In your left, a bao cheeseburger topped with Chinese bacon. In your right, a seasonal house draft. Say, one with unique tea infusions.
And this being a chef-helmed brewery, there's more substantial offerings on the menu from the chef/owner behind nearby Owen & Engine. Whole crispy fish, for example, wok-fried with a sour chili sauce and hand-pulled belt noodles layered with Szechuan spices.
Later, proceed upstairs for another drink. The retractable roof in the atrium-like space means that, regardless of the weather, there's a 100% chance of rooftop beer-drinking in the forecast.
Nice odds, those.