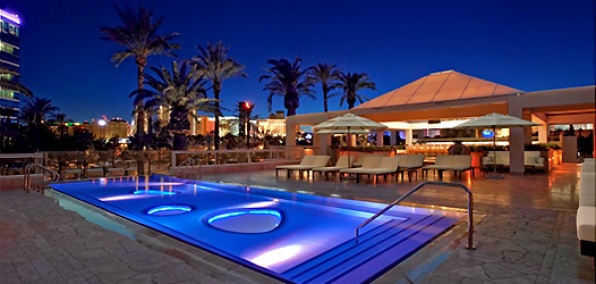 It's a timeless rule of Vegas: you can never have too many rooftop pools.

So when the sun goes down on one pool-based soiree, you want to have the next one queued up before your trunks can dry.

Preferably something classy, quiet... and not more than 20 yards away.

Introducing Skybar, the Hard Rock Hotel's new night-friendly pool deck, and the third pool in a trifecta of aquatic rooftop partying, opening on April 16.

Basically, it's the missing link between Rehab's poolside decadence and Vanity's clubland hijinks—conveniently sandwiched right between the two. And while it's a reliable, mellow oasis by day, you'll want to stop by on the later side—it's open through midnight—for a touch of alfresco lounging.

So when Rehab winds down, you can lead your entourage over to the west pool, up a well-hidden back staircase and towards a gloriously sun-dappled roof deck pool where you can keep things going without even toweling off. Once you're there, scope out the scene, grab a Dark and Stormy, and nosh on some savory bites from downstairs. Later, head back downstairs, past the dish-shaped infinity pool, and look through one of the ceiling peepholes for a bottoms-up view of the upstairs pool (it's the good kind of glass ceiling).

And if you need to transition to a landlocked party, there's a long walkway that takes you directly into the mega-club funhouse that is Vanity.

Which should give you time to get reacquainted with dry land.