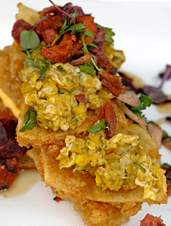 Nachos.
Your best friend. Your confidante. Your co-conspirator.
And now: your booze-soaked breakfast buddy.
Say hello to
Scotch Pancake Nachos
, the greatest thing to hit your morning since bourbon Cheerios, now available at Poe's Kitchen at the Rattlesnake.
Why it took the universe so long to combine these ruggedly delicious foodstuffs, we're not quite sure. It all starts with a regular pancake (the basic building block of most crazy breakfasts). Then a pile of battered tortilla chips is affixed to the flapjack with the help of a housemade tequila cream cheese. And upon this is dropped a trifecta of chorizo-applewood bacon, blood-orange salsa and spicy Guadalajara butter-scrambled eggs.
And since we're talking pancakes here, all of this receives a generous bath of maple syrup and maple-infused Macallan Scotch.
When you put a forkful in your mouth, don't be surprised if it tastes a bit like an entire Denny's Grand Slam breakfast... from a Denny's in a Latin part of Edinburgh. It's available all day, but you'll probably want to order it up after a heavy night of revelry with friends.
Then again, it could really liven up a Wednesday afternoon.