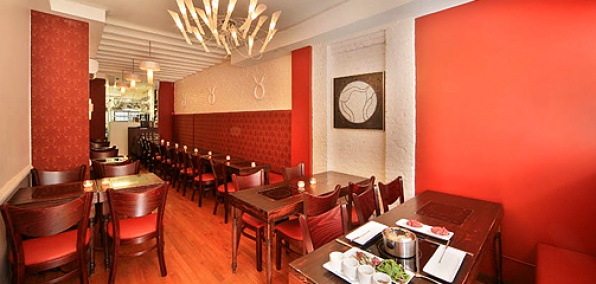 Risk. Intrigue. Mystery.

These are elements you know well. Tools deployed in certain situations of next-level gamesmanship.

But rarely on a first date.

So today we bring news of a place that understands: a tiny little gem of a new restaurant with a small menu of shareable food, a charming French host and a scene best described as... comfortable.

It's a place we're dubbing a Certified First Date Safe ZoneTM. And it's open now...

Introducing Taureau, a BYOB fondue spot in the East Village helmed by a charismatic Frenchie, awaiting your next first date.

Opened by a seasoned fondue pro (Didier, who perfected his trade at his own Parisian fondue spot for 13 years), the small, skinny space is decked in white and red, spotted with two-person tables and set up for serving one food and one food only: bubbling cauldrons of cheese, oil and chocolate.

This is pretty much all you need to know: arrive with a bottle of Veuve tucked gently under one arm and a backup bottle of pinot noir under the other. Start with cheese, move to meat, finish with chocolate.

And don't worry about the stove-like contraption built into the surface of your table: it's designed to heat up the cauldron of fondue, but remain completely cold to the touch.

See: Safe Zone.