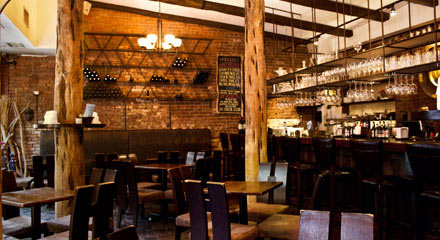 It's as true as it is clichéd: it pays to stick with what you know.

So it makes sense that when you're a South African opening a wine bar, you're going to open...a South African wine bar.

Introducing Xai Xai, soft opening now in Hell's Kitchen. Step inside and you're immediately greeted by the rough-hewn wooden arches and the 600-pound distressed Turkish tree trunk-pillars (we've been waiting for Turkish-forest-theme to make a comeback). And since the owners claim this is Manhattan's first South African wine bar, you may be persuaded to make the trip.

With nearly 100 wines (all South African, most available by the glass or quartino) to choose from, you won't have to try too hard for that immersion you've been craving (we're talking culture here). Make the most of the comfortably rustic décor from the large booth backed by white birch branches, or grab a seat at the bar for in-depth scrutiny of the wine list.

Of course, man cannot live on wine alone (although we will continue to try), so there's a menu of tasty small plates to sustain your cultural explorations: go for the meat pies or one of the Biltong Toasted "Saamies" (think South African beef jerky) to go with your Ken Forrester Petit Pinotage (S.A.'s signature red varietal) or get a Chenin Blanc for your Local and Artisanal Cheese Plate.

Local cheeses and South African wine...now that's our kind of diplomacy.