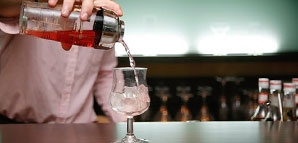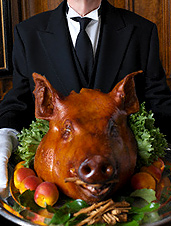 When you strip away the whole "day of rest" thing, Sunday's really just another night to party.
And by party, we mean craft cocktails, a whole pig (crucial to any party) and a chance to grab a drink with the very people you usually see behind the bar…
Presenting
Chef Louie Night
, the blink-and-it's-gone pop-up supper club previously only attended by a handful of restaurant industry insiders, materializing for one night next Sunday in Kenmore Square.
Once a weekly tradition held at different apartments around the city, think of this as the Lazarus of insider supper clubs, now going down in the abandoned Great Bay space. (Waste not, want not.) You'll be treated to rock star chefs (the head cooks from Toro, Garden at the Cellar and Sel de la Terre…which would be Chef Louie) tearing up an entire farm-raised pig into an array of pork dishes (think
Jerk Style
and
Oysters with Fresh Cut Fried Bacon Bits
, among others) that
you've voted on
.
But it's not all about the food—you'll be chowing down family-style while you mingle with sassy Bostonians and industry brass alike. (If there was ever a time to try picking up a bartender, this could be it.)
A gratis hour of Island Creek Oysters will start you off, followed by cash-only cocktails crafted by Eastern Standard's mix master using tequila, bourbon and rum in a slew of 19th-century-style cocktails.
Don't forget your top hat.