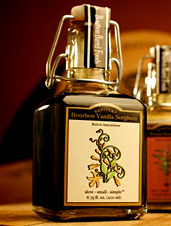 It's about to be a big month for national holidays.
The Final Four. Opening Day. The Masters. April Fool's Day.
Which means you need some grilled meats. And ideally, some bourbon. And, of course, some bourbon on your grilled meats...
Introducing
Bourbon Barrel Foods
, a radical line that combines condiments and bourbon to bring a necessary bit of whiskey to your dining, available now.
Basically, it's the mad brainchild of an old-school guy in Louisville who takes your standard condiments—say, Worcestershire sauce—and ages them in bourbon casks. The result: extra-smoky sauces that add a hint of booze to your burgers, steaks or ice cream sundaes (you answer to no one). The Worcestershire's even available by the gallon, moonshine-style. Better yet: it's not made in a bathtub. We don't think.
Among your options: pepper, paprika and sea salt, all smoked with bourbon, and something called "bluegrass soy sauce." (Made with actual banjo strings.) But the craziest might be the whiskey-laced teriyaki sauce, nicknamed Kentuckyaki.
Which would have made more sense if the Wildcats had won.