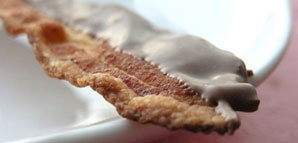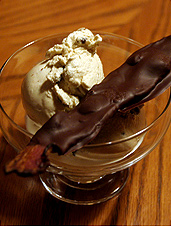 Ah, bacon...
Good on its own. Good with lettuce and tomato. Good with beef, mushrooms, onions and Swiss cheese.
And, of course: good on vodka-covered ice cream.
Say hello to the most bacony dessert we've ever seen, the
Candied Bacon Ice Cream Sundae
, an off-the-menu game-changer now available to you at Jake's Dixie Roadhouse in Waltham.
Yes, that's right, we are one step closer to the bacon latte. The new bacon sundae is what you'll want to guiltlessly summon to your table to finish off a heaping plate of barbecue, or to order solo, as your reward for successfully climbing to the top of another Monday.
We'll warn you, though: if you don't like bacon, don't order this multilayered bacon ensemble. It starts with a fried bacon cookie baked in-house, as well as a giant chocolate chip cookie. Both are placed under a mountain of maple-syrup-candied Vermont bacon ice cream, specially created by Lizzy's Ice Cream up the road. Next, a robust handful of hand-cut, chocolate-covered bacon bits are loaded on top, like magic porcine fairy dust.
The whole bacon masterwork is finished with a drizzling of house-infused bacon vodka chocolate syrup (code name: the Molotov Hogtail), which, if you'd prefer, can be substituted with baconless chocolate syrup.
But you would never.