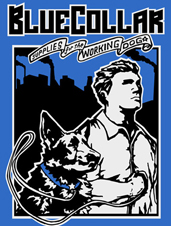 Spring is here, and you're ready for some real adventure.
You're not the only one.
Here to help you and your four-legged friend climb every mountain is a new sports-minded store called
Blue Collar Working Dog
, now open in Echo Park.
Let's get one thing clear: this isn't the place to help you pamper a simpering little sweater dog shivering inside a Louis Vuitton purse on Robertson. Blue Collar is a rough-and-tumble, highly specialized spot to stock you both up for your next outdoor adventure.
That's right: in other words, this is LA's first extreme-sports pet shop. When Bruiser needs a hunting collar, some dog boots to get you both up Runyon Canyon or a harness for you to help him over the rocky patches, this is the place.
They've also got full K-9 tactical gear, in case your dog has a side gig cracking drug rings for the fuzz (this is definitely where McGruff the Crime Dog would shop). And if he's a Schutzhund competitor (think Westminster on steroids), they've got all the bite sleeves, leaping rings and speed-weave panels you'll need for training.
And while you're busy restocking on holistic dog food made with bison and wild boar, your pooch can hit the in-store treadmill for a little canine cardio.
No word on four-legged track pants.