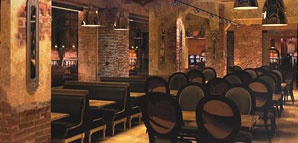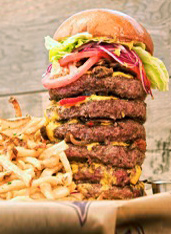 Someday—maybe not tomorrow, maybe not the next day, but soon—you're going to get hungry.
At which point, you might want to leave the Strip behind in search of a new kind of wager, the kind that can test your innermost soul.
Also, your tolerance for ground beef.
We suggest
LBS's
Extreme Burger
, three pounds of unusually spicy meat sent to test the limits of your willingness to indulge, taking challengers now.
Here's the deal: if you can finish a three-pound burger and a pound of fries in one hour, you'll achieve the kind of enduring glory this town ordinarily only grants to the likes of Sinatra and Siegfried. (Also, your meal's on the house.) If not, you'll slink back to the hotel to suffer the aching heartburn of defeat. Only one person's managed it... but that's never stopped you before.
The burger itself is six patties—16 inches—tall, and you'll have to sign a release just to get near it. It's piled with mushrooms, bacon and cheese, and sprinkled with a lip-numbingly spicy sauce made from Indian bhut jolokia chilies—peppers so hot that the Indian government uses them as weapons.
We suggest taking it one patty at a time, sparing bites for those fries and fixings (which you'll have to finish anyway). And to cut the spiciness, you might want to work in some sour cream and milk.
Which is a small price to pay for glory.