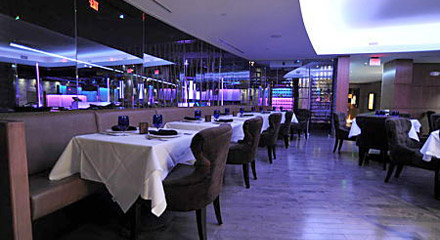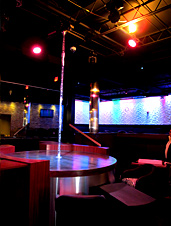 Before we begin, let's get this out of the way: we're not suggesting we'd
ever
find you in a venue such as the one we're about to discuss.
But facts are facts: you're known to play concierge around this city, and the case does arise when your friends from the speedboat lobby suggest (
insist
, even) that you go to such a place.
And you would be remiss not to be a good host.
So say hello to
Stadium Club
, opening this Monday with a series of parties to serve all your entertaining needs.
You'll enter via a red carpet (naturally) and find yourself presented with the full Vegas—all manner of colored lights, short skirts and Kanye emanating from the DJ booth. Your troops will want to get right to it, but you'll make them wait, directing them into the leather-paneled dining room for a feast of lobster, lamb chops and trophy wines, and then repairing to the outdoor smoking deck for a round of Honduran coronas.
Only then will you usher them onto the "field" level, where you'll turn your attention to the three main stages, which are connected by bars that conveniently double as catwalks. (Somewhere, Frank Lloyd Wright is smiling.)
Of course, your esteemed
lobbyists wouldn't want any unwanted press coverage, so to facilitate your discreet entrance and egress, the club is planning a sedan service, which you'll summon by calling the club and asking for "Elvis."

The King would be proud.