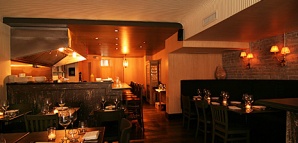 You're perfectly happy with your drinking routine. And you're entitled to your habits. But sometimes we come across cultural imports that change the game in a way we just can't ignore.

Take Dell'Anima, opening today in the West Village.  The unassuming glass and grey storefront might not grab your attention at first, but appearances aren't the focus here. Hidden in this charming minimalist spot is an all-star cast (Chris Frazier and Gabe Thompson from DelPosto, Joe Campanale from Babbo) who direct their passion where it counts: into your belly. Simple, straightforward homemade pastas are served right off the skillet at the chef's counter, fresh-squeezed juices are pressed to order in the DeGroff'd cocktails and the wine list draws exclusively from unknown Italian producers.

You could let Gabe and Chris host you for dinner (if you're so inclined, set up shop in the corner banquette) but we recommend you stop by a little earlier for the linguistically-challenging-yet-ultimately-rewarding Aperitivo. Proving old world hospitality isn't dead, the chefs will cook up (for the convenient price of your affection) heaping plates of whatever they found that day at the market to go with your Roasted Orange Negroni or glass of Movia Puro IV—completely gratuito.

And you thought you couldn't be bought.