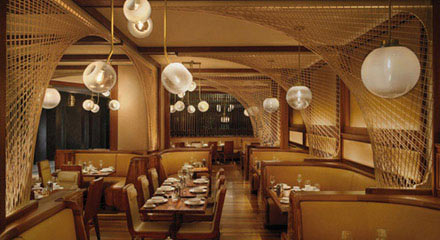 You've never been one to rush an evening.

You enjoy a place where after-work drinks can turn into an after-drinks dinner, and an after-drinks dinner may very well become an after-dinner impromptu stay over.

Re-opening this week after a 17.5 million dollar renovation, The Royalton Hotel and the newly imagined Brasserie 44 are set to reinvent a once lively midtown scene.

In its heyday, The Royalton was a collision of minimalist design and midtown chaos. While the spirit remains, the space is now darker, sexier, more eclectic and decidedly less Scandinavian-looking (minus Magnus behind the counter). The lobby is a series of loungey pockets filled with steel and brass patina'd chairs, cowhide covered sofas, and...a chess set (for brushing up on your strategy). The lighting and décor along the long runway-like lobby are meant to draw patrons, like a moth to a flame, from the darker entranceway to the glowing Brasserie 44, situated in the rear, which is where you'll want to lay your aim after a few drinks at the bar.

The restaurant, conceived by John McDonald (Lever House, Lure), has a subtle nautical feel, dressed in elegant teak and cream-colored leather with booths separated by woven rope arches designed by Cirque du Soleil's rope master (nothing says class like French circus rope). The seasonal menu (changed, oddly enough, four times a year) is all classic brasserie fare. Try the Pan Roasted Veal Chop or the Black Bass en Papillote.

And then see about that stay over.