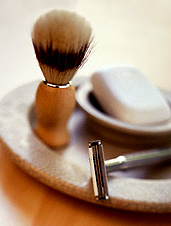 Throughout time, humankind has demanded that all of life's treasures be delivered straight to its doors. And thus, some of our greatest inventions were born. The wheel. The Pony Express. The modern miracle that is pizza delivery.
And now, your Dopp kit delivered straight to...wherever you're about to be.
Your couriers:
Suite Arrival
, a new service that lets you order your shampoo/soap/exotic oil of preference to be sent directly to your chosen hotel, online now.
In short, it's like having an online assistant to pack and ship your grooming supplies. So instead of sacrificing your soap at the security line—or chancing it that your hotel has the organic bamboo-aloe-whale-fat shampoo that keeps your follicles looking so luscious and Redfordian—they'll ship it to your hotel, where it will be sitting, waiting for you in your suite when you arrive. (As of press time, they are not transporting personal bathers.)
All you need to give them is three days' notice and an earnest desire to stay clean. At the moment, they have a growing roster of time-tested standbys (like Right Guard) alongside newfangled rare herbal-tea-scented moisturizers for your daintier travel partner (at least, that's who you can say it's for).
Speaking of, we thought you should be aware that they also carry other essentials—like Band-Aids, Pepto and condoms.
Not necessarily in that order.