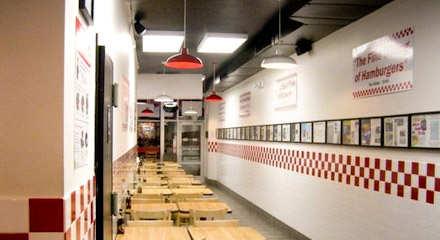 You're all about variety when it comes to lunch, but sometimes you just want a good burger. So when you hear about a new midtown burger spot... well, let's just say it piques your interest.
That's right,
Five Guys Famous Burgers and Fries
arrives this week, and they're bringing their peanuts with them (we'll explain later).
Born in D.C., Five Guys has already made a name for itself in parts south by focusing on the bare essentials executed to perfection. Exhibit A: fresh local beef, shipped direct to the store without ever passing through a freezer, hand-formed and grilled to order. Exhibit B: fries cut on-site and served up in floor-shaking portions. (But no trans fats...in case you were worried.) Bonus: Sautéed mushrooms, onions, and peppers, straight off the griddle, are free for the piling-on.
As for the aforementioned peanuts, you can find them in barrels around the store, salted and unsalted, to sate your pre-meal hunger pangs. They're always on-hand—especially useful when you're braving the lunchtime lines on an empty stomach. It's the "giveaway that keeps on giving."
The only people who aren't happy about it are a certain
burger joint
a few minutes west...
But a little variety never hurt anyone.