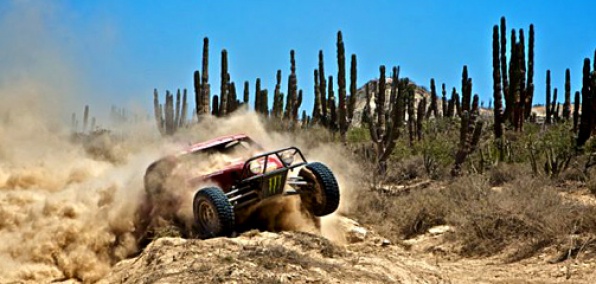 We've got nothing against rules, per se. Some of them are just fine—never bet red after midnight, for instance.
But for some reason, whenever we get out to Vegas, we feel the urge to tear off our clothes, stockpile our favorite liquors in the back of a trunk and ditch civilization entirely.
Preferably at speeds upwards of 90 miles an hour.
Introducing
Wide Open Nevada
, a three-day supercharged tour of the desert wilds outside city limits, booking trips now.
It's the kind of off-road rally you usually only see in the early works of Burt Reynolds. Your chariot: a souped-up dune buggy with a roll cage strong enough to withstand whatever flip-inducing curves you pull off. You'll have a solid three to five days of barreling through dry lake beds and pinyon pine forests at 90 miles per hour, bunking down at dude ranches and Wyatt Earp-era saloons along the way.
If you discover you've got a knack for off-road racing—and all you'll need to know is how to drive stick—you can surrender the magnificence of your day job and go pro. The folks behind this are regulars on the rally circuit, and for a five-figure payout, they'll outfit you with a brand-new buggy and a squad of mechanics for whichever competition catches your eye—including the annual Vegas-to-Reno rally that's coming up in August.
Also known as the only reason to ever go to Reno.