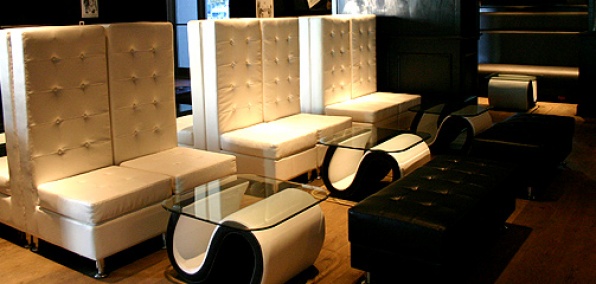 Sometimes a steakhouse is just a steakhouse.

And other times, it's the backdrop for something more. Something involving cocktails, sushi and the seduction of a person you met Thursday. In other words, a lounge.

Say hello to The Lounge at Chophouse Miami, a sexy new den of martinis, mojitos and maki, now open at the downtown restaurant.

Taking the idea of a secret backroom lounge and spinning it on its head, this tony spot is situated at the entrance to the polished meatery, so you'll notice it at the perfect time: right when you walk in.

Ignore the power players making real-estate deals over strip steaks in the dining room and instead focus on the white leather couches, scuffed hardwood floors and proximity to the restaurant's towering bar... It feels like you've stepped into Bruce Wayne's private club, if he were Italian.

The candlelit vibe is ideal for pre-feast cocktails or a post-filet wind-down fueled by Downtown Dragonberry Mojitos and Old Ginger Cubans (rum, bitters, ginger beer). You'll also want to come here when you're in the mood for maki like the Eel Roll with jalapeño and barbecue sauce.

The lounge is up and running now, but starting this Thursday they launch a happy hour ($7 cocktails, $6 rolls) that will run Monday through Friday from 5 to 7pm and Friday through Saturday from 10pm to 1am. Which means on Friday you could theoretically double up on the happy hour.

Although we have no idea what you could do in between.