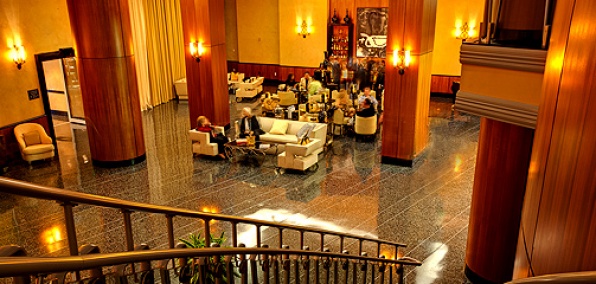 Variety may be the spice of life, but focusing on one or two things can be equally interesting.
Especially if those two things are both whiskey.
Here to reinvigorate your love of the magical grain is
Rye
, a grand drinking den now open at the Ritz South Beach.
Located in the upper lobby of the Ritz's stately Lincoln Road digs, this is the amber-lit space you'll turn to when you've got a taste for barrel-aged Kentucky bourbon and the soothing confines of a luxury hotel.
You'll probably want to enter having eaten, settle into one of the cushy toffee-colored chairs and brace yourself for a
dangerously strong cavalcade
of single malts, rare bourbons and pricey cognacs (there's also a smattering of vodka and gin, in case your drinking companion can't roll with the dark stuff).
Take it straight, obviously, or go for the end-around with a
Perfect Manhattan
(rye whiskey, sweet and dry vermouth, bitters, cherries) or a
Southern Belle
(bourbon, grenadine, OJ and pineapple juice).
When things start to get crazy (and you forget about matters like morning meetings and personal finances), ask the barkeep for a 25-year-old Macallan (at $100 per glass) or the 20-year Pappy Van Winkle (clocking in at a rich and smooth 90.4 proof).
Bourbon rule #316: always trust your glass with a man named Pappy.