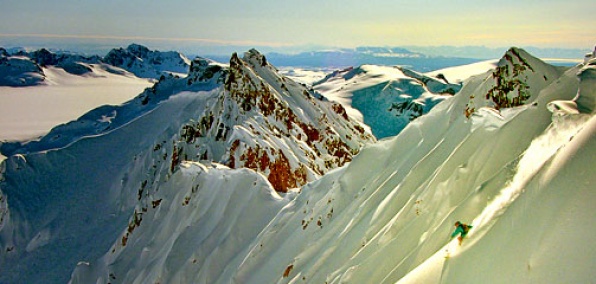 We're not sure if you saw, but the Olympics just ended. The figure skaters have gone back to their rinks, the curlers have returned to their igloos, and the skiers have gone back to speeding down snowcapped peaks without any slalom flags to get in the way.

And if you play your cards right, you can join them.

Welcome to EpicQuest, your ticket to some of North America's tallest peaks, with a gold medalist to show you the way, taking reservations now.

From the moment you touch down near Anchorage, you'll have more than a million acres of slopes to leave your mark on, most of which have never seen the business end of a pair of skis.

Just hop the ski-plane (that's a plane with skis, improbably enough) out to EpicQuest's lodge in the Tordrillos, heat up the sauna and map out exactly which peaks you want to hit. That means choosing between fresh powder in sight of Mount McKinley or spending a day on the slopes of Mount Redoubt, an active volcano that was shooting out cinders this time last year. (Hopefully you can ski faster than lava.)

Unless you're already a world-class skier—and we'll take your word for it—you'll probably want someone to give you some pointers, which is where that Olympian comes in. You'll have Tommy Moe—a downhill star of the '94 Lillehammer games—heading up the party and giving out a few tips along the way.

He'll also be useful if you run into any cutthroat figure skaters.