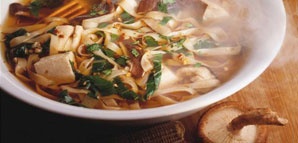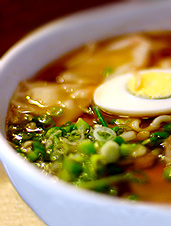 We hope this finds you alert, well rested and brimming with conviction that all is right with the world.
But if it doesn't, owing to your recent participation in activities possibly including (but not limited to) bourbon, karaoke and other advanced tomfoolery, that's fine too.
You just may need a little assistance today...
It's called
Sake Ramen,
a hearty, healing lunch of savory noodles drenched in an entire cup of sake, available starting today to stave off last night's lingering demons.
Given your current state of unparalleled clarity, it's hard to express just how urgently you will need this no-nonsense, off-the-menu soother. Maybe not today. Maybe not tomorrow. (But also, maybe today
and
tomorrow.)
When that day comes, you're going to slip out of the office, step boldly to Yushi's counter, flash your ID and receive a large, unassuming soup bowl. In this bowl will be a pile of ramen noodles, slow-cooked and richly seasoned teriyaki chicken, broccolini and a soft-boiled egg. Sitting in 32 ounces of Nanburyu sake-based broth. (It pairs phenomenally with a mild, non-noodle sake.)
Back in the comfort of your lordly place of business (or maybe just behind your desk), you'll discreetly nurse this healing concoction and gather the courage to once again head back out there, thankful that there are only three things in this world that can't be cured by the potent mix of sake and noodles.
And anyway, none of them are in America.