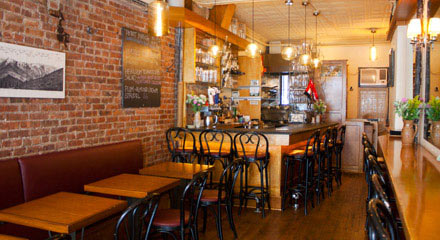 Your to-do list for October involves a lot of celebrating, German-style.

Now there's word of a new Austrian bar on the Lower East Side.

To which you think: Close enough.

Introducing: Cafe Katja.

A cozy gem of a 25-seat, exposed-brick-laden bar, Cafe Katja is a Governator's paradise of authentic Austrian beer, brats and heavy consonants. Co-opened by two chefs, one a native New Yorker, the other a native Austrian (with the surname to prove it: Schrottner), Katja fills its modest-sized menu with strudel-icious offerings like landjaeger smoked sausage and homemade pickles, weisswurst plates with sweet mustard and pretzels, homemade bratwurst with sauerkraut and beef goulash with spaetzle. (It's enough to make you want to relearn the glockenspiel.)

Having laid the culinary foundation (and then some), you'll move on to Central European wines (Zweigelt and Blaufrankisch reds from Austria), cocktails (their Alpen Spritzer contains homemade plum schnapps) and, of course, beer. Katja has hard-to-find German and Austrian bottled lagers, pilsners, Hefeweizens and malts (including the 14%-alcohol Samichlaus) and drafts like Gosser, Hofbrau and Schneider.

Plus, nearly all the beers, both bottled and draft alike, are served in their own brewery-specific glassware—a bartending feat that requires discipline and precision.

Leave it to the Germans—er, the Austrians.