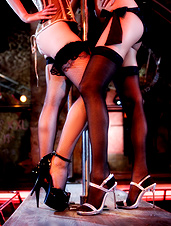 Sunday is a crucial weekend necessity.
As it sits on the precipice of the forthcoming week, it's embraced in different ways. Some surf the couch all day long; others take a pleasant evening stroll after several stiff cocktails.
You... You're more of a "find a crazy cabaret performance with half-naked women and a cash bar to seal off the weekend in style" kind of person.
With that in mind, we thought you should know about
Midnite Vultures 2.0,
a one-night-only burlesque performance set to the entirety of Beck's immortal
Midnite Vultures
album, featuring sexy ladies, strong drinks and the sweet sounds of Bek David Campbell...known to all as Beck Hansen.
The formula seems simple enough: take one of Beck's greatest albums, capture its zany zeitgeist of sexx laws, Hollywood freaks and gettin' real paid (all of which are song titles) in a play set to Mr. Hansen's fantastical orchestrations of silliness, sex and sound. Throw in naughty cabaret ladies the Bitches of Destiny and Black Cat Burlesque, a cash bar and no rules—and you've got yourself a party.
And as no Beck performance would be complete without a touch of the truly bizarre, there will be a massive girl-on-girl food fight, go-go dancers bouncing about and what is billed as "the most bizarre form of
Family Feud
ever witnessed."
We anxiously await the survey.