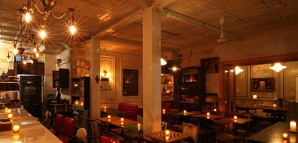 Cigars. Communism. Pacino in
Scarface
.
Yes, Cuba has excited and perplexed you over the years. For even a bit more Cuban flavor, say hello to our little friend:
Cantina
, opening tonight in the East Village.
A two-room restaurant and bar led by Jason Swamy (Movida), Cantina is designed to be your Cuban peasant saloon in disrepair (we've heard this
somewhere before
). Inside the smallish 54-seat haunt, you'll find ambiance like flaking paint, old stereos, raggedy dolls, an un-tuned organ and bookshelves spared from the junkyard and transformed into wine racks.
Unlike Socialista, though, Cantina is not a club, will have no doorman and lacks hard liquor. "This is no chichi place," notes Swamy. "This is more laid-back. More avant-garde."
So
avant-garde, in fact, that within a few weeks they'll stay open till 5am or later, and offer takeout and delivery.
For now, head to the 10-seat bar or one of two cozy red booths and order Latin dishes prepared in possibly the smallest kitchen in Manhattan. There's a lamb's tongue sandwich, spicy meatballs, braised oxtail with cocoa and pulled-pork dulce de leche. Wash it down with fresh-fruit sangrias and watermelon sodas from Cuba's own Cawy bottling company.
Just in case you take your Cuban in a bottle.