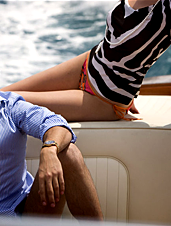 We don't want to alarm you, but sailing season's almost here. Which means that in just a few months, the oceans are going to be filled with ships running from coast to coast with no regard for order, propriety or international law.
And, as luck would have it, they're accepting stowaways.
Welcome to
Vagabond Sailing,
a handy guide to private boats in need of rakish deckhands, online now.
It's basically a hitchhiking guide for the boating set, which means that instead of truckers and traveling salesmen, you'll be sailing along with a Spanish shipping magnate making his annual pilgrimage from Barcelona to Monte Carlo. (By happy coincidence, it's also roulette season.)
You'll start by strolling through
the Sailing Groups page
, where you'll find more than a dozen Mediterranean jaunts with a few bunks free. Once you're signed up (and you've thrown in a few hundred euros for gas money), you can confer with the captain on routes and get a sense of who you'll be sharing the ship with. We'd suggest finding a berth to Elba with an alluring but wily mistress on board...but you can't be picky.
At the moment, most of the trips are weeklong treks on rented boats around Italy and the French Riviera, but we hear a few Caribbean jaunts will be popping up before too long.
If you're willing to settle for a Brazilian shipping magnate.