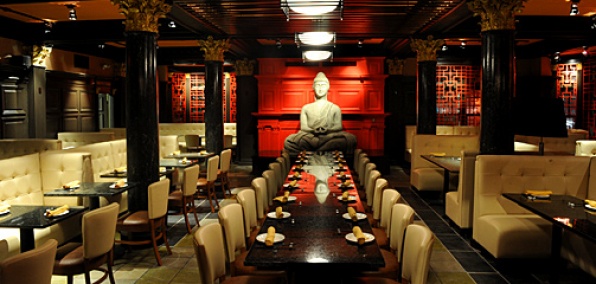 The bad news: it's ugly outside.
The good news: it's Friday.
And: we've got your first look at a new place in Brookline for after-work sake and modern Asian fare.
Introducing
Budda C
, the new Asian bistro rising from the ashes of Jae's Café, scheduled to open next week.
Sleek and Beijing-y, think of Budda C as the sort of place to go when you want a taste of downtown NYC chic, but would rather not leave the greater Coolidge Corner area.
The new interior is expansive (seats 135) and date-friendly, with plush white leather booths for you and her to enjoy
steaming plates
of
Grilled Korean Short Ribs,
spicy
Kong Pao Fish
and
Pan-Seared Chilean Sea Bass
.
If you're saying to yourself, "Sounds great, but is there a humongous Buddhist statue watching over the entire space?" we're happy to report: yes. Yes, there is a Buddhist statue.
And if you don't have the time or stomach capacity for dinner, the cocktail lounge will come in handy, with plenty of cold Kirin Lager on draft, more than 15 different sakes and excellent views of Beacon Street.
Beacon Street tends to look prettier the more sake you take down.