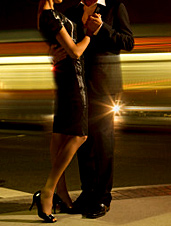 Visionaries are often misunderstood.
Time and again, your monumental feats of romance have been squandered on those lacking the sort of verve and joie de vivre you require in a paramour.
If she doesn't comprehend the magic of black-tie snorkeling, then she doesn't deserve to bask in the glow of your charm, creativity and great head of hair.
So you'll be pleased to know that there's a new source to screen for like-minded hedonists...
Introducing
HowAboutWe
, a new New York-only dating website where instead of making decisions based on profiles/random quotes/fake pictures, decisions are made based on date ideas, in beta now.
The prospect of immediately filtering out the less adventurous types who aren't interested in your brand of craziness is what makes this site interesting amongst a sea of dating sites. The process is simple—register, review a series of sample dates that you approve, disapprove or skip (to get a sense of your particular style), propose a few dates, and you'll soon have an inbox full of lusty wooers.
Meaning you can finally meet a partner for the blindfolded knife-throwing lesson, get together with someone who also wants to go skin-diving in the Maldives or find your adversary for the champagne-and-lingerie pillow fight sleepover you've been planning to have on Jay-Z's yacht.
It's not breaking and entering if you're doing it for love.