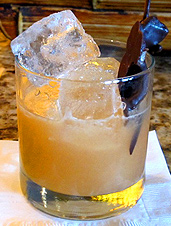 It's Wednesday. Another wintry mix is on the way tomorrow. But we've got some good news, and we're not going to mince words about it.
So here it is: Bacon. Chocolate. Hot sauce. Bourbon.
On ice.
Presenting
The Bone Cocktail
at Farmers & Fishers
,
now available off the menu on the Georgetown waterfront for your quaffing pleasure.
In short, it's everything you need to get you through the week, all in one convenient place (namely, your glass). Your night of pork-aided inebriation begins, innocently enough, with a shot of bourbon, shaken with a few dashes of Tabasco and squeezes of fresh lime juice (the genesis of many great adventures).
Then things really come into focus (and soon after, go blurrily out of it) when your garnish arrives. Think of it as a chocolate-bacon lollipop: a slice of Wisconsin's Nueske's bacon (the Vince Lombardi of bacon) that has been skewered, candied with brown sugar and cinnamon, and then dipped in chocolate ganache.
As you sip, the first thing you'll feel is a bracing slap from the heat. But you'll shake it off quickly, as you bite into the lollipop and let the salt and smoke dance across your taste buds. The finish: sweet and mellow from the heady combination of chocolate and bourbon. By now, you're probably wondering what could inspire this unholy terror: as you've no doubt guessed, a cocktail served with a rib bone inside, out of Syracuse, New York.
By way of Bedrock.