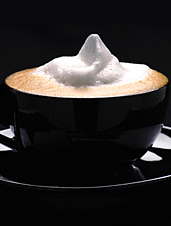 What a cold, dark, rainy, rotten day outside.
And for some reason, that afternoon caramel whateveryoucallit from Starbucks isn't quite doing the trick. Feels boring. You need something with a bit more
oomph,
ideally having something to do with a succulent game bird...
Presenting
The Quail and Black Truffle Cappuccino,
the new off-the-menu creation that's sure to question everything you've come to expect from your Italian pick-me-up, now available at Gargoyles on the Square in Somerville.
First of all, let's get one thing clear: there's no coffee involved. What you're really dealing with here is an 8-ounce cup featuring a gallon of veal stock (or pig's feet, or lobster, or any other protein-based stock you'd like to involve) reduced down to a furiously intense broth boasting a ton of butter, diced cubes of off-the-bone quail meat and decadent black truffles shaved right into the cup. In other words, don't expect to see this on the shiny pink board at Dunkin' Donuts anytime soon.
And since no cappuccino would be complete without its white crown, they cook salsify root in cream and butter and pour it on top, before injecting a roundhouse kick of nitrous oxide.
They even dust it off with a little bee pollen and cocoa, and the whole decadent treat is best consumed with a spoon.
Note to tea: be afraid.