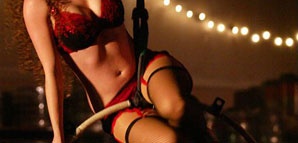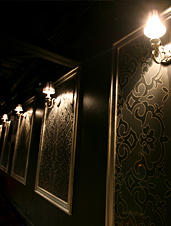 You go to Lincoln Road for many things: dinner and a movie, a late-night espresso, the occasional Mr. Clucky sighting.
Fire dancers and waitresses wearing pasties aren't usually part of the equation.
Until now.
Welcome to
The Strip,
your new den of iniquity and semi-exotic dancing, blowing open its doors this Thursday in South Beach.
Imagine if Dita Von Teese teamed up with Cirque du Soleil, and you'll have a pretty good idea of what this place is all about. The two-story space that housed Rumi has been transformed into an Old Hollywood burlesque club, complete with suspended swings, a second-floor performance stage and dancer poles sprinkled throughout the venue.
Which means you'll see everything from go-go dancers outfitted in vintage flapper regalia to lithe aerialists doing tastefully erotic jumps and contortions (these people have clearly stretched).
To amp up the sexual energy, you can count on the cocktail waitresses and hostesses wearing scandalous uniforms involving lots of fishnet and the latest in French corsetry.
And don't be surprised if after a drink or three you catch the eye of a tutu-wearing flirt who beckons you to the VIP room, a secluded hideaway with its own stripper pole, a private bar and fur-covered walls.
We have no idea what happens next.